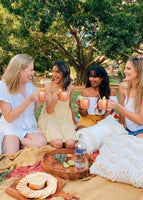 Celebrate life - It's Vurth IT
Add an ornate flair to any table setting with dazzling copper mugs & straws.
Crafted from 99.7% Pure Copper.
SHOP COPPER MUGS
Benefits of Copper
AntiBacterial and Antimicrobial
Copper is the only metal certified by the EPA (Enviromental Protection Agency) as it fights the transmission of pathogens that cause human infection and diseases. 99.9% of E. coli microbes are killed after just 1-2 hours on Copper surfaces.
Reusable and Sustainable
Copper by itself or in any of its alloys, such as brass or bronze, can be used over and over again. It's the only metal that can be recycled infinite number of times.
Health Benefits
Copper water provides a number of health benefits. It provides Alkaline water that improves immunity, improves digestion, prevents aging, eliminates toxins and free radicals, prevents fine lines and wrinkles.
Let customers speak for us